Award Winning Composer:
I have written many pieces for marimba solo for four and six mallets. I also have made duoes for vibraphone and marimba.
For larger scale orchestras, I have written for Symphony Orchestra, Wind Ensembles and Chamber Orchestras.
I also write for steelpan.
I accept commission of works.
Music video on my YouTube Channel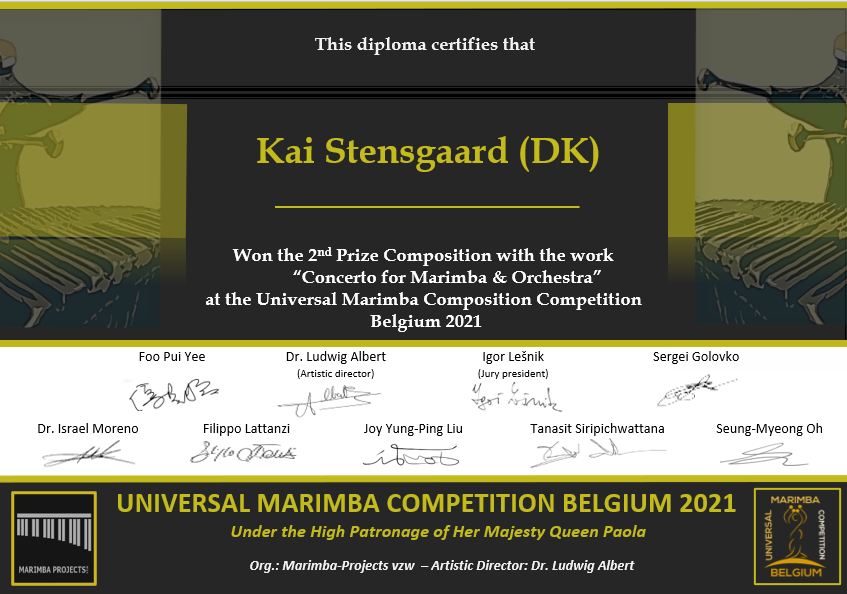 In 2022 I received a prize for my Concerto for Timpani & Orchestra "Knight of the Holy Kettles" from the International Composition Competition in Italy.
Concerto for marimba & orchestra,  the new prize winning composition at "Universal marimba Competition Belgium 2021"
Instrumerntation:
Marimba (5 octaves – played with 4 mallets)
Flute1-2
Obo 1-2
Clarinet in Bb 1-2
Basson 1-2
French Horn in F 1-2-3-4
Trumpet in Bb 1-2-3
Trombone 1-2
Tuba
Strings
Timpani
Percussion 1: Snare Drum
Percussion 2: Bass Drum, Glockenspiel, Vibraphone, Cowbell & Bongoes
Percussion 3: Cymbal, Xylophone, Triangel, Wood Blocks, Opera Gong & Low Tom
List of compositions:
Concerto for marimba & aluphone with Orchestra (one soloist)

Hexaclavi, 2 six mallet marimba players and 10 piece percussion ensemble. Dedicated to Pei-Ching Wu and JU Percussion Group.
Zócalo Mexico, marimba & Symphony Orcehstra
Zócalo Mexico, marimba & Brass Band
Zócalo Mexico, marimba & Concert Band
Hexagram, marimba and Concert Band
Hexagram, marimba and Brass Band
Twin Piece, marimba and aluphone solo, (one player)
Hexagram, marimba solo, (6 mallets)
"Concierto Mexicano". Concert for marimba & Symphony Orch
Octagram, marimba & big band
Pieces of Wood, sax & marimba duo
Triglyf I, marimba solo
Triglyf II, marimba & cajon
Libertango by Piazolla, arr: vibraphone & marimba
Zita, marimba solo, (6 mallets)
Asturias Leyenda by Albeniz, arr: for marimba
Flight 206 to Paris for percussion ensemble in Puerto Rico
Cumbia, marimba solo (6 mallets)
Kais Mambo, marimba solo
Lluvia en la Selva, voice and marimba
Salsa Mexicana, marimba solo (6 mallets)
Spanish Dance, marimba solo
Manzanilla, marimba solo (6 mallets)
Lain Nebaj, marimba solo (6 mallets)
Recuerdos de Mexico, marimba & marimba quintet
Frutta Fresca, vibrafon & marimba duo
Rain Forest, sax & marimba duo
El Zocalo for marimba quartet
Fiesta en la Selva for steelband